Visualize Your Idea :
Bring Your Architectural Dreams to Life with Us


Unlocking the Potential of Construction Planning: How BIM Implementation Provides Effective Solutions for Building Projects.

Construction Solution includes consulting services related to construction activities, which include building design and planning, infrastructure planning, environmental planning, including preparation of Master Planning, Conceptual Design, DED, Construction Management, Shop Drawing Support, Temporary structure design, and 3D/4D simulation , which is done by optimizing the implementation of the BIM (Building Information Modeling) concept in each stage of its work. Construction Solutions also includes topographic survey services, soil investigation, building & infrastructure assessment as well as building/infrastructure construction supervision services
We Do BIM
(Building Information Modeling)

It is an intelligent 3D model that provides Architecture, and Construction (AEC) professionals with a tool to plan, design, construct, and manage buildings and infrastructure more efficiently. We have involved BIM in the following areas: Details Design, Structural Analysis, Human Analysis, Solar Analysis, Clash Detection, Quantity Takeoff, Logistics, 4D Simulation, Augmented Reality, Mixed Reality, Virtual Reality, Facilities Management, Procurement, and Marketing.
​We provide services according to your needs

Soil Investigation

The process of assessing the soil's physical properties to determine its suitability for a project's foundations and support systems.

Topography Survey

A detailed survey that measures and maps the land's natural and man-made features to assist in the design and construction of a project.

Conceptual Design

The initial phase of design that explores and defines the project's scope, requirements, and key features. It is a high-level overview of the project.

Master Planning

The process of developing a comprehensive and long-term plan for a project that outlines its goals, strategies, and implementation.

Detail Engineering Design (DED)

The process to developed the conceptual design by creating detailed design documentation that includes technical specifications and engineering calculations for the construction.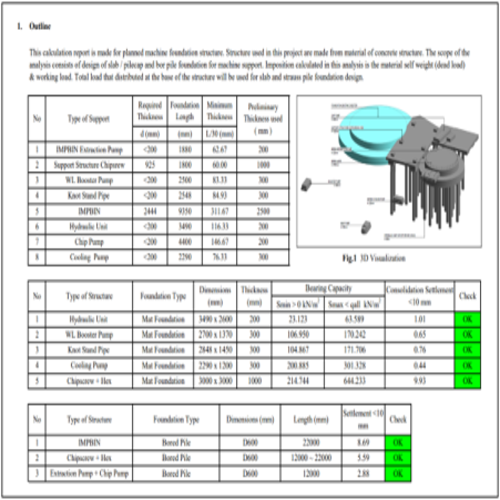 Design Analysis
The process to determine the proportional building dimension that fulfills the latest applied code requirements for specifications, safety and commercial efficiency described by scientific analysis showed in calculation report. .

BIM Management
An effort that involves planning, coordinating, and controlling a project from start to finish to meet project scope, time, and budget requirements.

Construction Management

An effort that involves planning, coordinating, controlling and maintain a project from start to finish to meet project scope & specification, time, and budget requirements.


Shop Drawing Support
The creation and development of detailed drawings, diagrams, and schedules for prefabricated with actual condition and adjustment on site during construction process to ensure accuracy and compatibility with the project design.

Temporary Structure Design
The planning and design of temporary structures, such as scaffolding, shoring, and formwork, to ensure the safety and stability of the construction process.

Building Forensic

The investigative process of analyzing and determining the root cause of defects, damages, or failures in building structures or systems.

3D/4D Construction Simulation
The creation of a digital model that simulates the construction process, including the sequencing of tasks, time, and resource management.